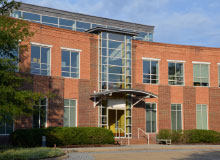 John D. Rockefeller Jr. Library
Resources for the Study of America's History
The John D. Rockefeller Jr. Library is dedicated to advancing knowledge of colonial British America, the American Revolution, the early United States, and the history of the Restoration of Colonial Williamsburg. Unique to the library is the body of research on the buildings, people, trades, and material culture of 18th-century Williamsburg.
Catalog search (books and manuscripts):
---
The Williamsburg Research Library Consortium
The Library is part of the Williamsburg Research Library Consortium, and we share access to a common library catalog. While each library shares the same core catalog, they maintain separate online presences and catalog interfaces.
Our member libraries are:

Library Catalog
Phone (757) 220-7249; (757) 565-8510
Email: rocklibrary@cwf.org


Library Catalog
Phone (757) 221-3072
Email: swem@wm.edu

Library Catalog
Phone (757) 221-3255


Library Catalog
Phone (804) 862-6226
Email: library@rbc.edu