Aesthetic Appeal
by Marilyn S. Melchor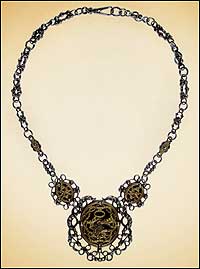 "Pinchbeck" means counterfeit, a derivation from the copper-and-zinc alloy of that name formulated to look like gold. Here, pinchbeck and finely cut steel fashion a mid-eighteenth-century English necklace, birds and garlands in attendance. - Photo by Tom Green
Deep in the vaults of Colonial Williamsburg's DeWitt Wallace Collections and Conservation Building rests a small but precious sampling of eighteenth- and nineteenth-century jewelry. The pieces are valued more for their beauty, or their historical associations, than their monetary worth. Precious and semiprecious stones - diamonds, rubies, emeralds, topaz, and garnets - were as highly prized in the colonial period as they are today, as were gold and silver. Yet some of the most attractive items were what we would call costume jewelry and were valued entirely for their aesthetic appeal.
Begun fifty years ago, the collection has fewer than one hundred items. More than half are rings, most worn in mourning for someone deceased. Mourning jewelry - which includes brooches and lockets - sometimes incorporates hair from the deceased, decoratively woven or part of a cipher or picture. Among the rings is one believed to hold the hair of George Washington.
The photos on these pages are of selections from the group - jewelry of everyday and special wear, and paste, gem, and nonstone items that demonstrate the range of selection for the consumer, the skill of the artisan, and the appeal of the objects. Several can be seen in the larger exhibit Jewelry: The Colonial Williamsburg Collection at the DeWitt Wallace Decorative Arts Museum. It runs through December 2003.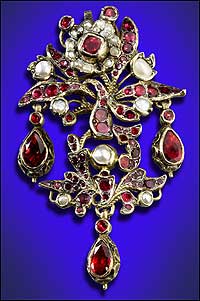 Missing two of its pendants, a pinchbeck brooch from mid-eighteenth-century England is an openwork floral spray whose leaves are set with half pearls and garnets. - Photo by Tom Green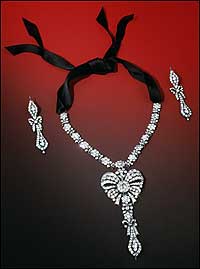 Paste brilliants gather into flowers, bows, knots, and teardrops on a silver necklace and earring set from late eighteenth-century England or the continent. The removable central flower and teardrop and the looped ribbon can vary the look and length of the necklace. - Photo by Hans Lorenz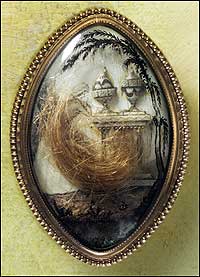 A weeping woman, two funeral urns, and locks of hair memorialize Mann Page and Anne Corbin Page of Virginia. The gold mourning brooch"with 1792 and the maker's name, "Ro Webb," a Philadelphia jeweler, at the bottom of the glass cover could be worn as pin or pendant. - Photo by Tom Green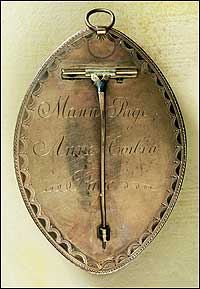 The back of the brooch, with pin and loop. - Photo by Tom Green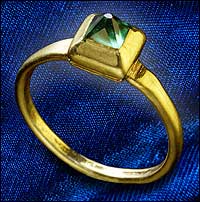 Intended for writing on glass, pointe native diamond rings of the Renaissance were the model for this otherwise plain early eighteenth-century English gold ring with a pyramid-shaped emerald. - Photo by Tom Green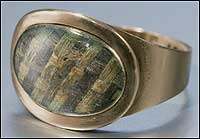 Engraved "George and Martha Washington," this mourning ring weaves two types of hair, believed to belong to them. - Photo by Hans Lorenz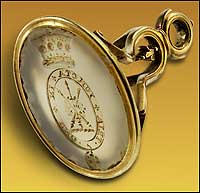 A gold fob wax seal, stamped the Order of Bath and the family arms of Jeffrey Amherst, British army commander in North America and Virginia governor in the 1750s and '60s. - Photo by Tom Green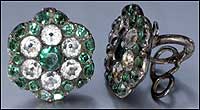 Green and clear paste stones pass themselves off as emeralds and diamonds in a pair of French eighteenth-century earrings. - Photo by Hans Lorenz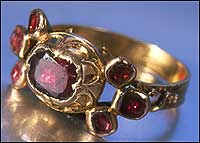 This ring most likely dates to the 18th century and is English or continental. Its flat gold band is decorated with scroll supporters and three small garnets on each side of a large oblong central garnet. Because of the size of the ring, it could have been worn either by a man or a large woman.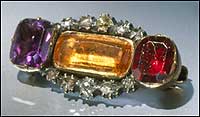 This eye-catching 18th-century gold English brooch combines amethyst, garnet, and five small diamonds arranged in an arc around both sides of an exquisite oblong topaz.
This simple gold and black enamel ring is a circa 1767 English mourning ring that was likely commissioned to commemorate the life of Ann Slade, who died in West Pennard, Somerset, England at the age of 27 on 12 May 1767. The information engraved on the ring is that found on most surviving mourning rings: name, age at death, and date of death. Usually, the letters "AET" which stand for "age at death" in Latin, and "OBT," meaning "date of death," are engraved after the name of the deceased. A ring commemorating Martha Slade is also part of the collection, but the relationship between Ann and Martha Slade is unknown.