Message from the President
An Important Piece of America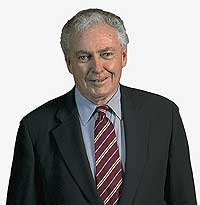 President Colin G. Campbell
The Colonial Williamsburg Foundation is not immune to today's challenging economic environment and must adjust to new circumstances. Maintaining eighteenth-century Williamsburg in perpetuity as a source of hope and inspiration requires faithful and prudent stewardship. Despite the turmoil in the nation and world, I have every reason to be proud of Colonial Williamsburg today and to be confident that this will always be a place where the future may learn from the past.
In 2008, instability on Wall Street and Main street damaged consumer confidence and curtailed discretionary spending. That in turn hurt our ticket sales and our conference, leisure, and product businesses. Unfortunately, it appears that the economic slowdown may challenge us deep into 2009, and perhaps beyond.
In this uncertain time, Colonial Williamsburg's firm goal is to maintain quality programming and superior guest experiences in a setting where, more than 230 years ago, other Americans faced and overcame worse adversity. Our commitment to today and to tomorrow, to sustaining success, is evidenced by the first reconstruction in fifty years of an eighteenth-century structure on Duke of Gloucester Street—Charlton's Coffeehouse—by the celebrations of thirty years of the African American interpretive program, and the seventy-fifth anniversaries of the reconstructed Governor's Palace and Capitol. We are, as well, advancing our exceptional outreach programs, museum exhibitions, and the popular Revolutionary City. Our achievements are recognized by the support of individuals and institutions, and the attention paid by newspapers and broadcasters.
Nevertheless, the foundation must address urgently and forthrightly its changing economic circumstances. We are reducing expenses in 2009 by $20 million, 10 percent of our operating budget. Colonial Williamsburg's strategic plan guides the effort, an initiative to ensure quality, maintain standards, and, where feasible, increase revenue.
My colleagues and I understand well that this national treasure must be a fiscally sound treasure; that means we must be a smaller, leaner organization. The workforce is the biggest item in the operating budget, and it has been resized to reflect resources. We have consolidated divisions and departments, reduced hours for some hourly employees, and eliminated positions filled and unfilled, from officers and directors to the front lines.
Such adjustments are difficult but essential to protect the foundation and all it represents to our country—explained as succinctly as it can be, perhaps, by a public service announcement now being televised across the country. The narrator is award-winning actor and producer Tom Hanks, who filmed some of the Home Box Office miniseries John Adams in the Historic Area.
John Adams shows the complexities of the eighteenth century, when heroes were still human and not yet rendered in marble. That goes to the heart of what we try to do, to give guests insight into what it meant to live here, an eighteenth-century town that persisted in tough times. The program, winner of thirteen Emmys, gave our mission a boost.
The public service announcement opens at Great Hopes Plantation with a farmer at his plow, which represents the American Dream, and turns through images of a Geddy foundryman pouring metal from a crucible, which represents American ingenuity; cabinetmakers working wood, which represents American craftsmanship; a Courthouse of 1770 trial, which represents American justice; preacher Gowan Pamphlet before a congregation of slaves, which represents American perseverance; and Thomas Jefferson standing with other patriots outside the Capitol.
In a voice-over, scene-by-scene, Mr. Hanks says, "The American dream. American ingenuity. American craftsmanship. American justice. American perseverance. And the very idea of America itself."
And at the end, Mr. Hanks appears on camera and tells the audience directly: "Colonial Williamsburg is an important piece of America everyone should experience."
Our responsibility is to be sure they can.
Colin G. Campbell
Chairman and President