Junior Interpreters Enliven Historic Area
by Ed Crews
Warm applause begins as eleven-year-old Annie Goode, costumed as an eighteenth-century girl, plucks the last note of "Greensleeves" on the Geddy House spinet. She performs with the enthusiasm of a child and the poise and polish of a professional. Smoothly, she moves from the brief recital to an engaging presentation on children's games and recreation in colonial Virginia. It's her second year as a Colonial Williamsburg Foundation junior interpreter, and she enjoys doing what she does well.
"I really like to interact with people and talk about colonial life," Goode says. "I like wearing the costume. And I like playing cricket on the Palace Green."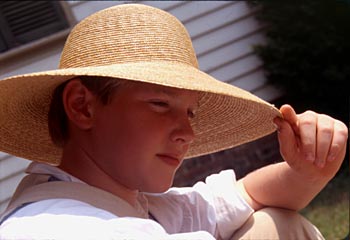 Jennifer Creef
A generously brimmed straw hat shades junior interpreter Brian Haack, the son of Terri Haack, from the summer sun in Colonial Williamsburg's Historic Area. He is one of more than 100 youngsters who help bring programs to life year-round.
A student at Williamsburg's Berkeley Middle School, Goode is among 125 youngsters who help, year-round, to bring the eighteenth century to life in the city's restored Historic Area. They are most evident during the vacation seasons, but they are also on hand for school-year holidays and weekends. Depending on the season, they do historic interpretation at such sites as the Governor's Palace, the Carter's Grove Slave Quarter, the Wythe House, the Brickyard, the Powell House, and the Public Gaol. They demonstrate home gardening, sewing, dancing, housecleaning, singing, and more.
"Visitors like it a lot," says Margaret A. Weiler, director of volunteer programs. "It opens new channels of communication. Children relate to children. When the children are happy, then the parents are happy. The program also is popular with our staff and with our neighbors in the surrounding community."
Phyllis Putnam, supervisor of the Geddy House and its staff, works closely with young interpreters. She says they "bring enthusiasm to everything they do. People do linger, and they do visit with children. Our younger visitors can play a game with the junior interpreters and enjoy doing something rather than listening. Parents tell us that this is a relaxing stop for families."
Children have been part of the Historic Area cast since at least the 1940s, but during the past decade the junior interpreter program has refined their participation to offer more to the youngsters and visitors. The William and Gretchen Kimball Young Patriots Fund has supported recent enhancements.
There is a thorough and professional selection process designed to identify the best participants and to introduce children to the world of work. Weiler says, "The junior interpreter program allows children to get their first experience in applying for a job, completing a job application, and participating in a job interview. This is an opportunity to experience the road ahead of them as adults. It also is a chance for us to nurture volunteerism, making a commitment to your community and accepting responsibility later in life."
About twenty positions are available annually. Competition is intense. There are roughly four applications for each slot. Candidates must be ten to eighteen. Weiler says inquiries come from across the country, but Colonial Williamsburg reluctantly and politely restricts the program to children who live in Williamsburg, James City County, or the Bruton District of York County. That's because the program requires thorough applicant screening, extensive training, and year-round participation.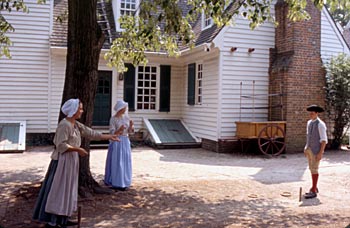 Jennifer Creef
Junior interpreters Emily Smith, daughter of Chuck and Sharon Smith; Megan Spear, daughter of Susan Spear; and Jordan Bristow, son of Judy Bristow, demonstrate the game of quoits behind the Geddy House.
The selection process begins at the start of the year. Prospective junior interpreters complete a questionnaire that tests their communications skills by asking them to describe their favorite teacher, their hobbies, their favorite Colonial Williamsburg site, and so on. Likely applicants are interviewed. Rene Willett, manager of family programs, says, "We look for several traits when we select children to become junior interpreters. We're looking for energy, personality, and the ability to get up in front of people and talk. We also look for people who can appeal to visitors and speak so they can be heard."
Training begins in early spring. New junior interpreters receive about twenty hours of instruction in eighteenth-century Virginia and Williamsburg, learning first about the respect and courtesy they must show guests. That is followed by classes on interpretation techniques, children's pastimes and education in the 1700s, chores, household management, period speaking styles, the proper wearing of costumes, and similar topics. The children also receive instruction related to the historic sites where they will work.
The Colonial Williamsburg staff who coordinate the junior interpreter program say it has a profoundly positive effect on the children who participate. An example is Kerry Vautrot, seventeen. She became a junior interpreter at ten. Since then, she's served as a peer teacher, helping to train young interpreters, and spent last summer working with the Kids' Dig, an educational archaeological program at Carter's Grove. She is now an intern with Colonial Williamsburg's Family Programs and is preparing material for a website.
Vautrot says the junior interpreter program has boosted her self-confidence, helped improve her speaking skills, and given her deep knowledge about colonial life. She says it was fun wearing a costume and developing skill at bilbo, an eighteenth-century game that involves tossing and catching a wooden ball on the end of a stick.
Her experience is helping shape her future. She wants to attend Mary Washington College and major in historic preservation. Vautrot says she's been privileged: "I've had a great opportunity to see a great organization at work."
---
Richmond writer Ed Crew's story on colonial printing appeared in the autumn issue.