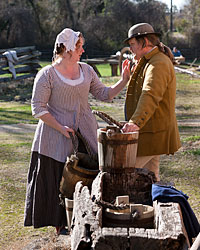 At Great Hopes Plantation, the Hoys, Corinne Dame and Bill Rose, wrestle with wartime problems and argue their future.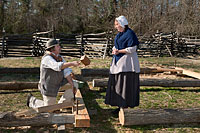 During the war, Hoy had trouble getting paid for his carpentery, holding him and his fast in a cycle of indebtedness and insecurity.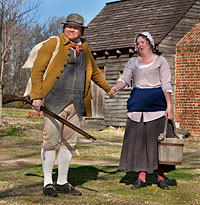 Belief in the patriot cause and the promise of pay led Hoy to enlist, parting from his wife and daughters to fight for independence.
Peopling the Past Series:
Meet the Hoys
Editor's note:
Another installment in a series of first-person, question-and-answer interviews with historic figures interpreted in Colonial Williamsburg's Historic Area.
Consulting editor Harold Gill's study of artisans and work in Williamsburg showed that the Revolution was a boom period for craftsmen, though money to pay them could be scarce. Colonial Williamsburg presents one of them, carpenter Alexander Hoy. There are gaps in the record of Hoy's life, and no one knows whether in the spring of 1777 he resembled the down-on-his-luck fellow today presented to guests to make larger points. Today's Hoy struggles to provide for his wife, Barbry, and daughters, Mary, twelve, and Elizabeth, two. He considers joining the military. Yet enlisting in the Continental Army means danger, suffering, and separation. Interpreters Bill Rose and Corinne Dame portray the couple, and discussed the Hoys' dilemma with the journal.
How is business, Mr. Hoy?
People will not pay what they owe me. Times are hard and keep getting worse. Nobody will extend credit. I cannot pay my debts. Food is scarce. Prices keep going up. We cannot even afford salt to preserve a hog for winter. I'm worried about my family starving.
Do you have any options?
I could join General Washington's army. The recruiter offers an enlistment bonus of ten silver Spanish dollars and a land bounty. It has been a long time since I earned ten dollars. Plus, after the war, the land would give us a chance to start anew. If we wanted to go west and settle, we could. We would have a chance to own a farm and have some security. Or we could stay here, if we wanted.
Mrs. Hoy, what do you think of your husband serving in the military?
I'm scared. I'm scared for my husband's safety. He'd be leaving the girls and me by ourselves. I don't have anyone to assist me. I have no family here. I'm scared because he'd be going up against the British Army, the most powerful in the world. We need the money, obviously. The ten dollars would help. Still, we'd have to ask people to extend our debt. We're not in dire straits yet. I'm willing to talk to people about work and to look for work. I can wash clothes and sew. My girls could help with that. I'd like to consider other options before he goes off to war.
Do you believe your husband's service might improve your situation after the fighting?
After the war, thanks to men like my husband, we could gain the security of an independent government and know that our rights would be honored. If we had a happy outcome, we could build a new nation. I wonder, though, who would benefit the most. The gentry? The men who started the revolution? What about the people like us? I don't see a lot of opportunity for us. I think it will be the same thing only with more money.
Some wives go with their husbands when they join the army. Would you do that?
I have to take care of my daughters. I can't think about leaving them. If I did, I would lose my family.
How do feel about your wife coming with you, if you enlist, Mr. Hoy?
My answer to that is no. It's dangerous. If she stays at home, she's safer. It may be bad here without me, but being with the army is far more risky.
Have you ever been a soldier?
I served in the militia, like all men between sixteen and sixty. I can march and shoot. I am familiar with military life, but I am not as well trained as somebody who has been in the army. Of course, if the war comes south and the militia gets called up, I might be in the fight anyway. Even now, some militias are going far afield from their home states.
Do you believe in the American cause?
Yes. I go to the tavern and the courthouse, and hear the gentlemen talking. I know a lot about what is going on. I believe in my rights, like a trial by jury and owning property, and my rights are at risk. Understand this: I have the same rights as anybody in Virginia, including the richest and most powerful men.
The American cause, Mrs. Hoy?
I believe in what my husband believes. The American cause is noble and important. However, I hesitate to say it will be successful. I look beyond our situation right now and think about the repercussions if we lose.
–Interview conducted, condensed, and edited by Ed Crews
Extra Images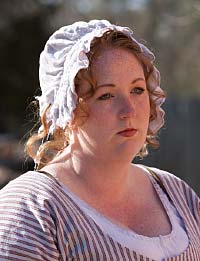 Colonial Williamsburg's Corinne Dame portrays Barbry Hoy.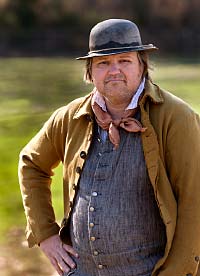 Interpreter Bill Rose as down-on-his-luck Alexander Hoy.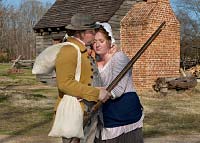 Bill Rose and Corinne Dame in a farewell embrace.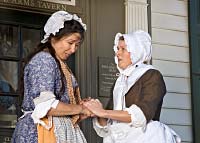 Barbry Hoy, portrayed by Bereni New, talks with Jane Vobe, portrayed by Rachel Stanton.