Wreaths, Garlands, Ropes, and Fruit
photography by Barbara Lombardi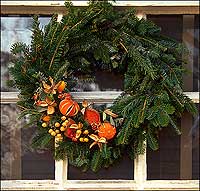 TAKE FIFTEEN TRUCKLOADS of pine, holly, boxwood, magnolia, and berries; add three miles of white pine roping; sprinkle them with 2,550 white pine and Fraser fir wreaths, fold in seventy-nine cases of fruit, mix in a pinch of imagination, and stir for a few days in early December. That's a recipe for a Colonial Williamsburg Foundation serving of the all-natural Christmas decorations that garnish Historic Area doors, drape eighteenth-century windowsills, favor antique dining tables, and grace fireplace mantles. Prizes are awarded for the best.
Always done by Grand Illumination—December 4 in 2005—the garlands adorn seventy-five exhibition buildings, trade shops, taverns, and offices and eighty-five private homes in the 301-acre restored colonial capital. It takes four days and the talents of sixteen carpenters, designers, and assistants, as well as scores of residents, to dress the city in its Yuletide finery. When the work is done—by dusk that day—more than 1,200 electric candles brighten windows up and down Nicholson, Duke of Gloucester, and Francis Streets, and the avenues that connect them, as guests gather for the season's annual fireworks extravaganza. The displays are kept fresh into the New Year.
The practice began in the 1930s, the idea of the Reverend Dr. W. A. R. Goodwin, rector of the town's Bruton Parish Church and Colonial Williamsburg's co-founder. Photographer Barbara Lombardi gathered the best of her pictures from 2004 to illustrate the promise of the tradition's seventieth anniversary, and shares them on these pages.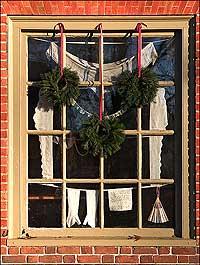 Wreaths, Garlands, Ropes & Fruit Slideshow

See more seasonal slideshows in our Multimedia section.

<