Grand Illumination
photography by Dave Doody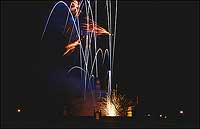 Fireworks illuminate the Governor's Palace.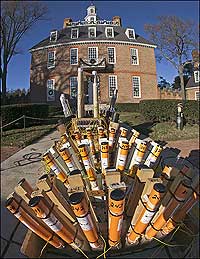 the front of the Palace is ready to blow.
Colonial Williamsburg's Christmas season officially begins with Grand Illumination, a spectacular evening when candles twinkle in the windows of Historic Area homes and buildings, fatwood crackles in street-side cressets, and the heavens explode with pyrotechnics. Thousands of guests turn out—families, friends, and strangers crowding the streets—to "oh" and "ah" and launch themselves on the Yuletide.
Dave Doody, manager of photo services in the Productions, Publications, and Learning Ventures division, has in his long Colonial Williamsburg career spent many a chilly Grand Illumination night on the restored city's greens and streets, draped in cameras and lenses, jostling with the crowds, capturing images of the show. As dramatic as the display itself, Doody's photographs, streaked with colored fire and peppered with sky-dyed starbursts, have appeared in publications around the world.
Last Grand Illumination he elected to come early to have a look behind the scenes at the fireworks people, rigging, and preparations that guests never see. Here's a sampling of what Doody's eye recorded then, as well as in Christmases past.
---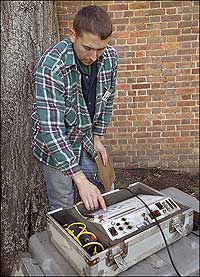 Doug Allen of Pyrotechnico at the field controller.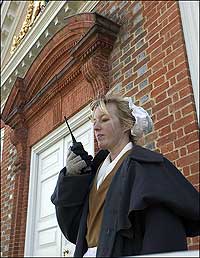 Colonial Williamsburg's Susan Gilliam runs security by walkie-talkie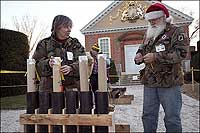 John and Gloria Graham set the Roman candles.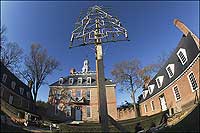 A Christmas tree set piece wired up in front of the Governor's Palace. The tree remains fixed on its post, but the ranks of Roman candles behind it will launch harpoons of fire at the nighttime sky.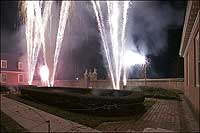 Grand Illumination fireworks are set up at in the Historic Area at the Palace, the Courthouse, and the Capitol.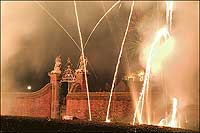 All centrally controlled by computer, the timing and choreography of launches are synchronized.